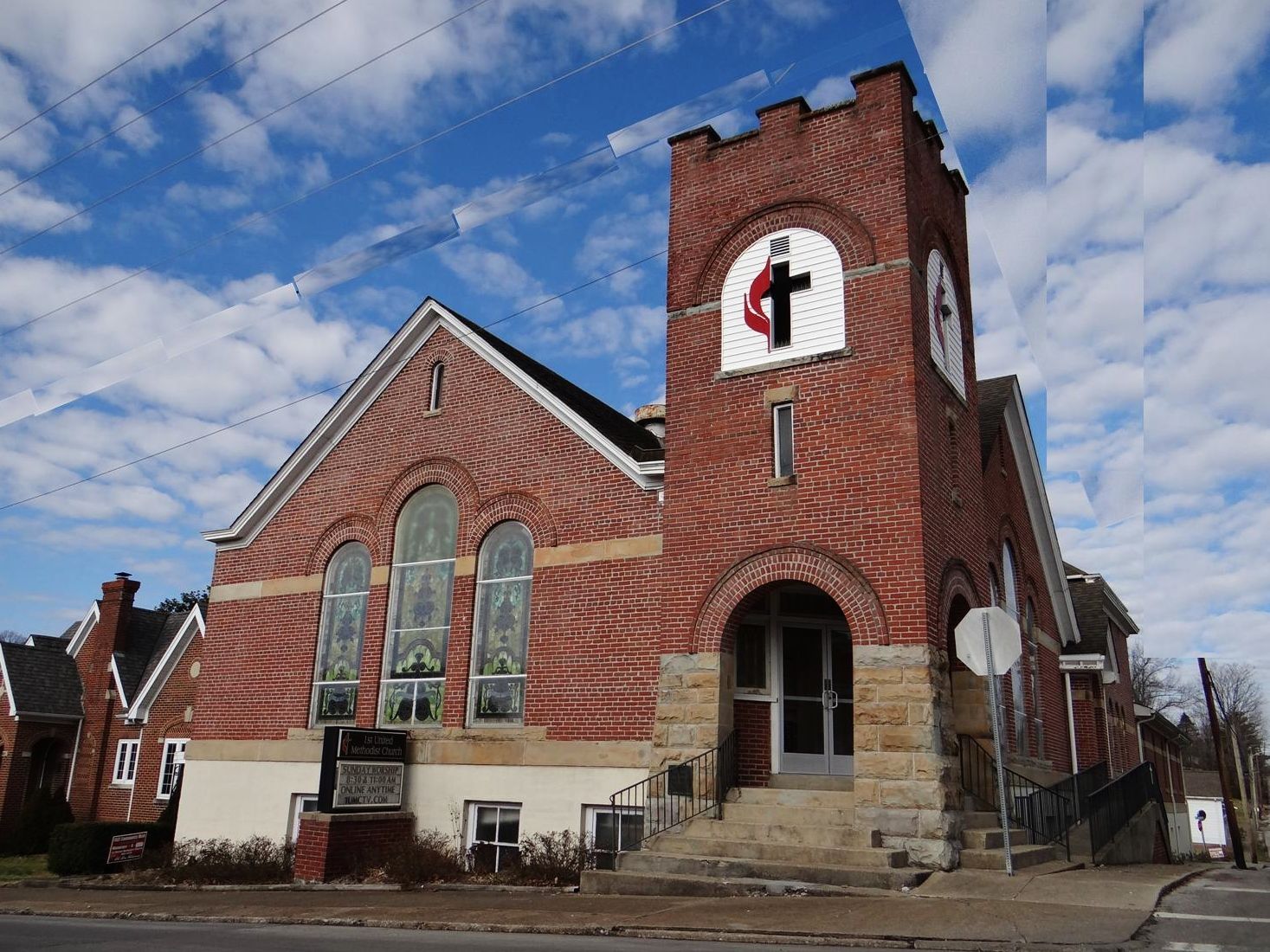 July 1, 2020 
Beginning on Sunday, July 12, two worship services will again be hosted each Sunday by First United Methodist Church of London.  The first service will be at 8:30 a.m. in the beautiful Sanctuary of our lovely historic church at 301 W. 5th Street.  The second service will be hosted at 11:00 a.m., as we continue to host Drive-In Church Services at London Farmer's Market at the corner of Main and Dixie Streets. 
Sanctuary Worship Service @ 8:30 a.m. 
We will begin an in-person worship service in our Sanctuary on Sundays at 8:30 a.m.  The Sanctuary, restrooms, and the main hallway between them will be the only areas available during church services.  We will ask everyone to enter and exit the building through the Long Street doors, the double wooden doors in the middle of the block between 5th and 6th Streets with both a ramp and stairs giving access to it.  All other doors will be locked. The elevator will be available by request.  

You are invited to arrive early, as we will be taking everyone's temperature with a No-Touch Thermometer before entering the Sanctuary. This is easy and non-invasive, as it is simply held in front of your forehead.  Pews will be marked for social distancing, and will be thoroughly disinfected before and after worship.  We ask that only those in the same household sit together.  Finally, masks or face coverings will be required for everyone except those actively leading worship at the time (preaching, singing, etc.).  We will have plenty of face masks to give to those needing them. 
Drive-In Worship Service @ 11:00 a.m. 
Our Drive-In Service at London Farmer's Market will continue on Sundays at 11:00 a.m.  We are grateful for your tremendous response to our Drive-In Services and we believe that these "come as you are" services continue to fill a need in our community.  We will continue these services, with a new option of sitting in chairs in front of the parked cars.  We will relax the rule of always staying in your cars, and permit people who so desire to bring chairs and sit under the Farmer's Market canopy in front of the parked cars.  You continue to be encouraged to remain in your cars if you desire.  If you wish to sit in chairs for the service, you will be required to practice 6-10' social distancing at all times, and to wear a mask or face covering.  In addition, we ask those who wish to sit outside their car to park in parking spaces away from the canopy to allow in-car worshipers to be closer to the platform. 
Other In-Person Meetings will not yet resume 
We are still not yet ready to begin other meetings, such as in-person small groups, Sunday School, children's and student ministries, nursery, fellowship meals, and recovery groups.  We know that these are critical parts of our life together, and we are looking at creative ways to do them safely during this time. 
Worship Services will continue to be broadcast @ 11:00 a.m. 
We will continue to broadcast our worship services on Facebook Live, 1umctv.com, and on WFTG 106.9 FM and 1400 AM Radio on Sundays at 11:00 a.m. 
Drive-In Worship Services this Sunday, July 5 
On Sunday, July 5, we will worship as we have been the past few weeks at London Farmer's Market only, with * stay-in-your-car * Drive-In Church Services at 11:00 a.m. 
Going Forward 
After one month, we will re-evaluate. 
We are grateful for the ways our church family has continued to be the Church during these challenging times ~ whether by worshipping God at Drive-In Church Services, On-line, or via Radio;  by calling to check on each other; by serving others like Jesus; or by sharing on-line messages and inviting others to worship with us. 
The methods may change but the Message remains the same.  The Apostle Paul writes, "Let us not become weary in doing good, for at the proper time we will reap a harvest if we do not give up" (Galatians 6:9 NIV).  May that be said of the disciples of Jesus at First United Methodist Church!