March 13, 2020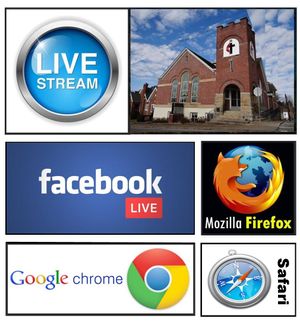 🎯 NEW Viewing Options! 🎯 
☆ Watch via Facebook Live or 1umctv.com ☆  
If you have experienced difficulty watching our Sunday morning services via 1umctv.com, it may be due to a compatibility issue with Microsoft browers.  
So we have added Facebook Live as a second option for watching our Sunday services. 
Visit our Facebook page to watch our worship services Live on Sundays @ 11:00 am EST beginning on Sun Mar 22.  The video will also be available on the page afterwards to view anytime! 
You may also watch as always via 1umctv.com.  The internet browsers Brad Jones recommends using are Mozilla Firefox, Google Chrome, or Safari.  You may also watch via your Smartphone's browser, or via the Roku App for Sermon.net. 
💙 We look forward to sharing beautiful music and an inspiring message with you on Sundays as you watch from the comfort of your homes, and we worship together in spirit! 💙