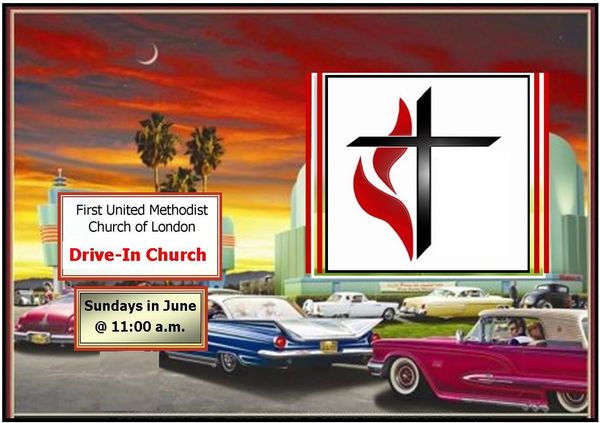 June 1, 2020
 
You are warmly welcome to join us as we host 
Drive-In Church Services 
on ALL SUNDAYS 
in the month of June 
@ 11:00 a.m. 
at London Farmer's Market! 
🚗  Sunday, June 7  ~ Pastor Matthew's last Sunday 
🚗  Sunday, June 14 ~ Hymn Sing 
🚗  Sunday, June 21 ~ Karen Stigall speaking 
🚗  Sunday, June 28 ~ Pastor Sean's first Sunday 
London Farmer's Market is located at the corner of Main and Dixie Streets in downtown London. 
Cars will be appropriately spaced for social distancing, and approvals have been secured from the City.  
💛🚗 "Come As You Are, and Stay In Your Car!" 🚗💛 
☆  Facebook Live  ☆ 
☆  1umctv.com   ☆