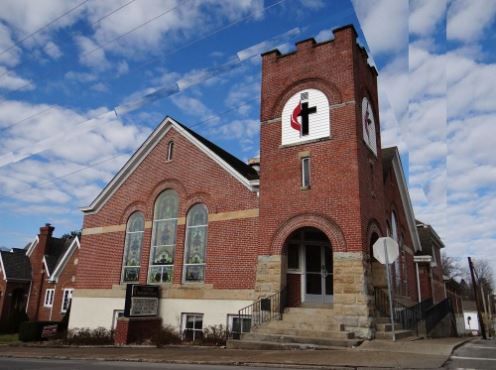 March 17, 2021
First United Methodist Church of London will again host two Sunday morning services in its lovely historic Sanctuary beginning on Palm Sunday, March 28.  Worship services will be hosted at 8:30 a.m. and 11:00 a.m. in the church's beautiful stained glass-laden Sanctuary at 301 W. Fifth Street.  Children's Church with Geneva Williams will also be hosted at both morning services, including early services, on Palm Sunday, March 28, and Easter Sunday, April 4.   Social distancing and masks will still be incorporated for the safety of our cherished church family and guests. 
The last Drive-In Service will be hosted this Sunday, March 21, at 11:00 a.m. at London Farmer's Market at the corner of Main and Dixie Streets. 
Pastor Sean Ryan and the church family are excited to return to their Sanctuary after a year of Drive-In Services, which started on the parking deck across from the church on Palm Sunday, April 5, 2020.  Services moved to London Farmer's Market on Easter Sunday, April 12, 2020, and have been hosted there for 11:00 a.m. services every Sunday since, with the exception of four recent Sundays impacted by winter weather.  Early 8:30 a.m. services returned to the Sanctuary on July 12, 2020, but Drive-In Services remained at 11:00 a.m. so both options were available to the church family and community. 
First Methodist was blessed to remarkably see an increase in attendance for their 11:00 a.m. services during the pandemic due to its Drive-In Services, which attracted families from other churches who wished to worship from the safety of their cars. While a challenging time, as the church already had Live Stream and Radio Broadcasts in place, First Methodist was blessed to host worship services without interruption during the pandemic.  Pastor Sean Ryan and the church family extend warmest thanks to its technical director Brad Jones of Oasis Entertainment; its SPRC, Security, and Re-Entry Teams; the City of London and London Farmer's Market; and all who have attended our services. 
All are warmly welcome to attend worship services on Palm Sunday and Easter Sunday, or tune in as services continue to be broadcast Live at 11:00 a.m. via Radio at WFTG 106.9 FM and 1400 AM, and Live Streamed via 1umctv.com and Facebook.com/LondonUMC.   For more information, please go to LondonUMC.org.
###