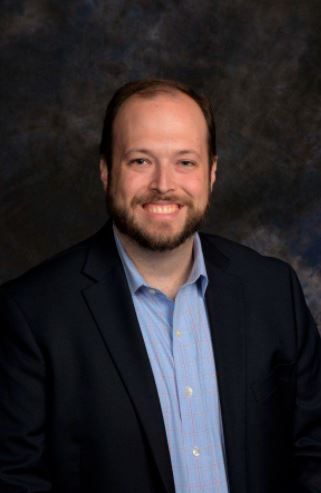 May 15, 2020
First United Methodist Church of London is pleased to welcome an incoming new pastor, Reverend Sean Ryan and his lovely wife Griffin.  As customary in the United Methodist Church, pastors are appointed to new congregations every few years. Pastor Sean is leaving his post as associate pastor of Centenary United Methodist Church in Danville, while FUMC-London's current pastor Matthew Kimmons will be the new pastor at Morehead United Methodist Church in Morehead, KY. 
Pastor Sean's first Sunday in London will be on June 28, with Pastor Matthew's last Sunday in London on June 7.  Guest speakers will fill in at FUMC-London on June 14 and 21. 
Pastor Sean is a graduate of Kenyon College and Asbury Theological Seminary.  He has served as associate pastor of Centenary United Methodist Church in Danville since 2016, and previously served as pastor of Jonesville and Mt. Pisgah United Methodist Churches in northern Kentucky.  Sean was a financial consultant at a Fortune 100 health insurance company in Louisville before entering pastoral ministry. Sean's lovely wife Griffin is a Lexington native, a gifted painter, and an ordained pastor in the Presbyterian Church.  She is a graduate of Centre College and Louisville Presbyterian Theological Seminary, and has served in churches in Danville, Lexington, and Louisville. The Ryans enjoy reading, cooking, and UK Athletics. 
While excited to welcome the Ryans in June, the congregation of FUMC-London is warmly grateful to Pastor Matthew Kimmons for his six years of wonderful service.  Pastor Matthew's kindness, Christ-like service, and heartfelt dedication have been appreciated by our lovely community and church family.  Community programs from Alcoholics Anonymous to the Backpack Program of Laurel County have relayed their gratitude for Pastor Matthew, with Backpack Program Director Jennifer Hawkins writing in April 2019 that Pastor Matthew "has been the best supporter of the Backpack Program of Laurel County from the beginning." He has been a force for good in London, sharing his wonderful sermons, unshakable enthusiasm, and remarkable talents.    
All are welcome to say goodbye to Pastor Matthew via the church website at www.LondonUMC.org.  All are also invited to hear his final inspiring messages as First Methodist hosts Drive-In Church Services during the month of May on Sunday mornings at 11:00 a.m. at London Farmer's Market, located at the corner of Main and Dixie Streets. While sad to see the departure of Pastor Matthew and his sweet family, the First Methodist congregation looks forward to a bright future with a new pastor at the helm as the sunny days of Summer dawn!
###